The Event Log module displays the log of an event. The most recent occurrences are shown at the top.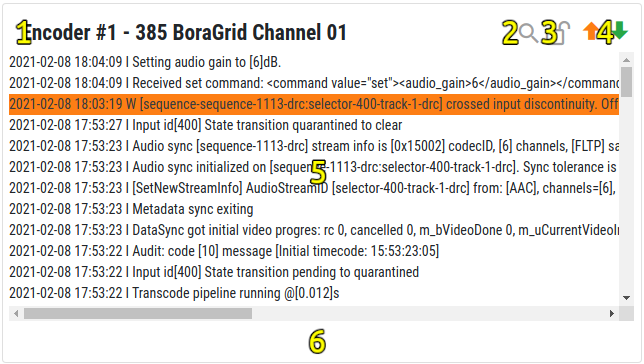 Module elements
1 – Encoder / Event Identification
Displays the name of the encoder, the event Id and its name.
2 – Search
Allows you to search the log content.
3 – Lock / Unlock
Enables or disables the search tool.
4 – Network Activity Icons
Orange arrow up icon – Blinks when the module sends a command to the encoder.
Green arrow down Icon – Blinks when the module receives a response from the encoder.
5 – The log
The content of the log. Warning lines are displayed with an orange background.
6 – Message Area
Creating an Event Log Module
In the main control page, go to Menu > Modules > New Module. A module settings window will pop up.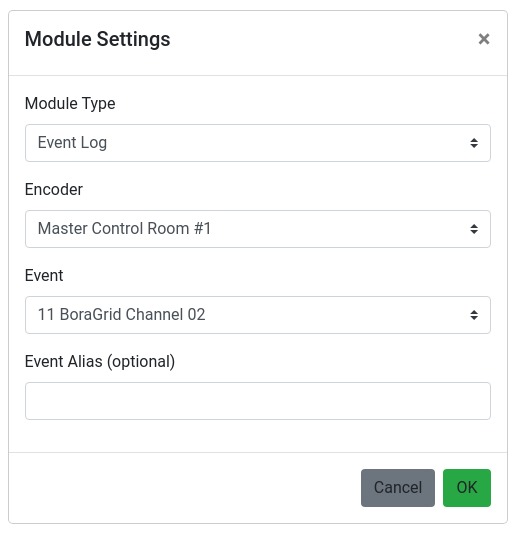 Select Event Controller in the Module Type selector. The encoder selector will be displayed.
Select an encoder.
A list of events will be load from the selected encoder and the event selector will be displayed. Select an event.
If the events list is empty, check the encoder for active events. If the event you looking for isn't in the list, see Settings > General Settings > Events per List.
The Event Alias field allows you to give the event a personalized name. If left blank, the id and name of the event will be displayed in the module.
Click que OK button.